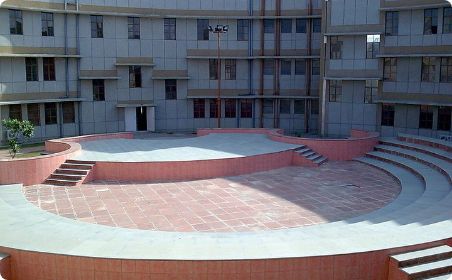 Chaudhary Brahm Prakash Ayurved Charak Sansthan (CBPACS) is an autonomous Ayurvedic Medical college and Hospital under the Govt. of NCT of Delhi and is registered under the Societies Registration Act 1860.
The chairperson of the Governing Council of the Institute is Hon'ble Minister, Department of Health and Family Welfare, Govt. of Delhi.
The institute is named in the honor of first Chief Minister of Delhi, Late Shri Chaudhary Brahm Prakashji.
INFRASTRUCTURE OF THE INSTITUTE: The institute is spread in a huge 95 acres of lush green eco-friendly campus with total built up area of 47,150 Sq. meters; the institute has separate academic and hospital block each having 4 storied building with central AC plant in basement of Hospital Complex. The institute has five Lecture theatres and one Seminar hall equipped with audio visual facility. Other amenities are separate boys and girls' hostel, Doctors hostel, Central Library, Sports ground, Canteen and Housing complex. The entire building is safe with Fire Alarm system and extinguishers. The Institute campus is declared as "Tobacco Free Zone."
STAFF & SANCTIONED POSTS: The institute is catering to Ayurveda health services, education and research through its highly experienced faculty members and doctors having National and International exposure. The total sanctioned staff strength of the institute 407.
ACADEMICS: The Institute is currently running a graduate program (B.A.M.S) with annual intake capacity of 100 students. The institute has also started post graduate program (MD Ayurveda) in 5 departments with total 29 seats.The institute is affiliated to Guru Gobind Singh Indraprastha University, recognized by Central Council of Indian Medicine and approved by Department of AYUSH, Govt. of India. Subsequently, the institute has planned to start PG diploma and Ph.D program in various specialties of Ayurved in the coming years.
The experienced faculty of the institute believes in imparting "Hands on Practical training" that's why students of not only India but also from other countries like SriLanka, Malaysia, Trinidad &Tobago are taking education from this institute. Candidates are sponsored by Indian Council of Cultural Relations for seats reserved for students of foreign nationals.
All the 14 Departments are well equipped with Laboratory and Museum. A huge part of land of nearly 50 acres is in process of developing into a world class Herbal Garden.
The Institute regularly invites the eminent National and International scholars of Ayurved and renowned scholars of allied sciences for Guest Lectures for discussion on the recent advancement in Ayurved.
HOSPITAL: The 210 bedded hospital attached to the institute is centrally Air-conditioned and is providing health services through its highly skilled and experienced Doctors.
The hospital has 22 functional OPDs of different specialties like Kayachikitsa (Medicine), Panchkarma, Shalakya (Eye & ENT), Stri-Prasuti Vigyana (Gynae & Obs), Kaumarbhritya (Paediatrics), Shalya (Surgery), Swasthvritta and Yoga etc.
The hospital has treatment facility with Panchkarma therapy, Ksharsutra therapy, Leech therapy &Agni karma. The OPDs are equipped with Token Number Display System for the convenience of the patients waiting for their number in Waiting Lounge.
The patients admitted in Private and General Wards get homely environment in the hospital and are taken care by the trained, experienced and friendly nursing staff. The patients of the indoor section are provided with healthy nutritious food as prescribed by their doctors keeping in view of dietary regimen described in Ayurvedic text.
CBPACS is the first Ayurvedic hospital in India to reach a record average of more than 1000 patients a day with 100% occupancy in indoor section almost throughout the year.
The institute has fully equipped modern Operation Theatres (OT), where major and minor surgeries are performed.
To cater the medical facilities to the suffering patients at their doorsteps, Sansthan regularly organizes medical camps and children health check up programs in nearby villages and slum areas of the city under the banner "Asptal Aapke Dwar"
Other facilities in the hospital are Central Pathology Lab, Radiology unit, DOTS centre for Tuberculosis patients and ICTC unit for counseling of HIV Patients.
Ambulance facility with BLS and AC is available to transfer patients to other hospitals or meet any emergency situation.
RESEARCH: In collaboration with CSIR-TRISUTRA, the institute is conducting a research on "Identification of genomic correlates of Prakriti in healthy individuals from North Indian population of Delhi/Haryana."
A peripheral Pharmacovigilance cell has been set up in the institute to establish and manage a Data base of Adverse Drug Reactions and report further to regional cell under National Pharmacovigilance Programme.
It is expected to be a premier research centre in upcoming years.